May 1 is May Day. I had an aunt who taught first grade and every year her kids danced around the May Pole having a great time like the kids in this picture below. On the weekend before May Day she would bring me and all my neighborhood friends to dance around it too. The idea was to braid the ribbons down the pole as we sang "Go In and Out the Window" weaving up and down like Merry-Go-Round horses. Younger kids usually just run around the pole and sing.
The May Pole is an ancient holiday celebrating of Spring. In the late 19th century, it became a celebration for International Worker's Day. Over the years, I've noticed it seems to have faded in rhe United States, which is sad as you can see from the kids enjoying themselves here.
When my daughter was born, I started setting up a May Pole in the front yard.
Here's what I used:
1. A tall round 4-6 inch PVC Pipe.
2. A 12-14 inch plastic embroidery hoop
3. Silk flowers to attach around the hoop (I used hydrangeas)
4. Wide brightly colored ribbon. Be sure to get it long enough because each streamer will probably be between 16 and 20 feet long.
5. Floral wire or tape
6. If you want to leave your May Pole up for a Spring Decoration, get enough baskets of impatiens to set at the end of each streamer to hold the streamer beautifully to the ground.
7. An 8-13 inch stick or small PVC pipe with a ball covered with silk flowers attached at one end
8. Wide tape.
What to Do:
1. Wrap your hoop in ribbon and then cover it with your choice of silk or fresh flowers (see below)
using floral wire and/or floral tape to attach the flowers tightly.
2. Put ribbon over any tape or wire that shows.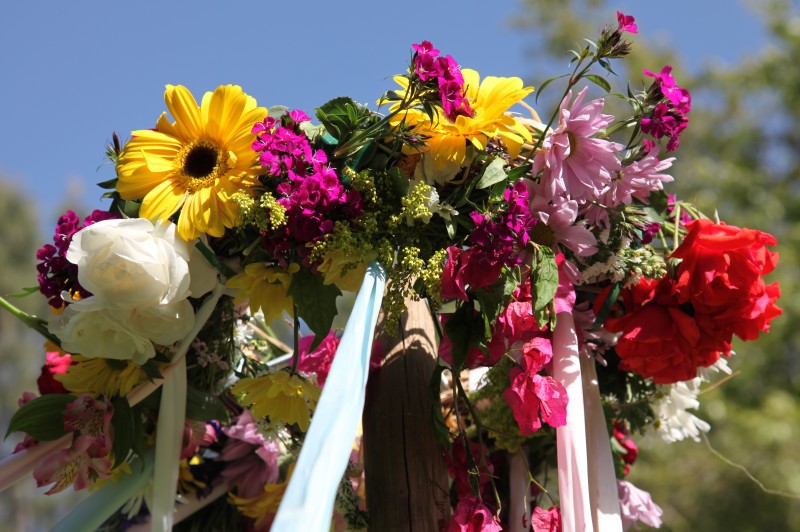 3.Weave ribbon over the top to create a loose ribbon basket. Set aside and place long pole sturdily in the ground.
4..Tape a one end of a streamer over the top opening of the pole. Pull the streamer out diagonally to
the ground to make long streamers (see examples of lengths below).
5. Cut as many different colored ribbon streams as you choose using the pattern you just created in
Step 4.
6. Tie streamer evenly around your flowered crown.
7. Have someone really tall, like LeBron James, place the flowered crown on top of the May Pole
and drop the short stick with flowered ball on top to weigh the crown in place. You may need to
glue the crown in place, if the flowered weight doesn't hold it.
8. If you want to, pull each streamer out diagonally and weight it down with a basket of impatiens,
but you'll have to take them off for the kids to play. HAVE FUN! HAPPY MAY DAY!
image from http://www.visitcumbria.com/evnp/langwathby/